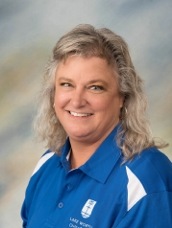 Kim Coman
Elementary Librarian
Mrs. Coman has been a part of our LWCS family for the past 17 years.
She has worked in both the secondary media center and the elementary
library. She has also been a classroom aide and held 2 long term substitute
positions. Currently, Mrs. Coman is our elementary librarian on Tuesdays,
Wednesdays and Thursdays. Mrs. Coman and her husband, Bob, have 3
children, all who attended our school. Her oldest, Katherine graduated
in 2007, is married and has a daughter, Madison. Mrs. Coman's granddaughter
brings much joy to the family!